About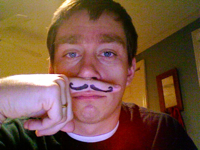 What's a "slipangle"?
It' a
racing term
that means the difference between where your tire is pointing vs where your tire is going. I like it as a metaphor for life: the difference between where you think your going and where you're really going.
About Me
I'm a most-of-the-time programmer with BoomTown, some-of-the-time ♫ musician, once-in-awhile mechanic, not-enough-of-the-time motorcycle rider. I also sell and recommend fun products, take pictures, post videos, tweet, and waste way too much time on the internet.
Timeline
Here's my life in a timeline:
July 10, 1977: Born in Fairfax VA
1979 - moved from Shenandoah Valley to Manassas VA
1982-ish: moved to Fairfax VA
1984: great year for Van Halen records, also a good year to have a little brother born. We called him Randy, but he didn't answer to that for at least a year.
1985, Age 8-ish: got my first BMX bike, a Mongoose. Love of BMX ensued.
1986, Age 9 - moved to Centreville VA, got into skateboarding, wanted a Rob Roskopp board desperately, but wound up with a nice Steve Caballero.
1988-ish: got my first guitar, an Aria electric. Seemed like a minor thing at the time, but this would be the beginning of a long love affair between me and laquered hunks of wood. Also moved to Alexandria VA around this time.
1990-ish: started moving away from sk8ting and my Natas, and playing more and more basketball.
1991: moved to Hayfield VA, wasn't too wild about my time there, but I did meet a comely young lass that I'd wind up marrying about 10 years later.
1993: moved to Woodstock VA, went to Central High, worked at Kentucky Fried Chicken
1994: moved to Summerville SC, graduated highschool, had a pretty good time overall.
1998-ish: started riding dirtbikes. Beginning of another long love afair with inanimate objects, this time hunks of metal and rubber.
2000: got married, to a gal I'd dated off and on since 9th grade. Had a son named Tyler.
2001: had a son, named him Robert.
2003: had a son, called him Wesley
2006: moved to Charleston SC, started working for Syndeo Interactive, which we've since morphed into BoomTown.
2007: had a daughter: Elizabeth "Peaches" Finneyfrock
2013: had another son: Daniel
Nuts and Bolts
This site's built on
Google App Engine
. As soon as I heard about it and watched a
campfire video
they did, I knew I had to get in there and play with it. I love coding and building websites, but hate all the rest: hosting, databases, caching, dns, email, etc. Plus, I've always been
intrigued by Python
, so it was a good chance to play with a new language. The old version of this site was in C# and was an experiment on making a dynamic site with as few files as possible. It was one default.aspx page and one xml file.
Sinatra
looks pretty cool too. Had I known about it when I was building this site, I might have gone that route.
One big catch in converting the site over to App Engine was the fact that Google limits the size of your files, and since I put my songs up here too, I had to figure out hosting for them, but I'd also been wanting to noodle with Amazon S3, so that was a no-brainer. My hosting costs have gone from about $10 a month with Brinkster to maybe ¢20 (just for S3 - App Engine's free). Also, since I've jumped ship to Mac, and use Transmit for FTP, they have S3 support built right in, so it's all been gravy so far. I've been taking Git a spin for version control too. For most of what I do (lone-wolf developer, a handful of commits, not much branching), I don't notice much advantage of Git over Subversion, but it works well and its easy to use with GitHub.